Sterri-Matt® Mobile PPE Stations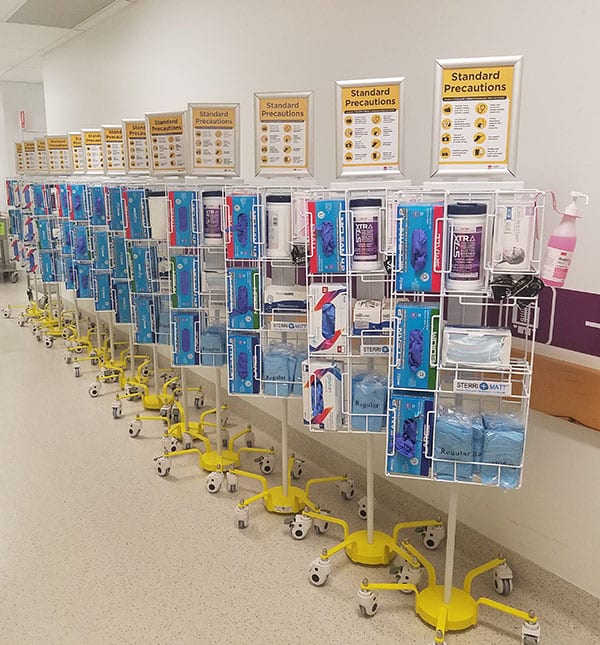 Copyright 2022 All Sterri-Matt® PPE Organisers are registered designs owned by Sterri-Matt Pty Ltd
Sterri-Matt® Mobile PPE Station
Product Code: SMATT-WCSP/ WCSM
The mobile trolley is a bespoke universal station for use with the range of Sterri-Matt PPE consumables organisers. The stand is adjustable to take either the small, mini, pandemic or gown and mask organiser, according to your requirements.
The stable base with lockable wheels allows for easy transport between stations. You can choose to include a clip on double-sided warning sign.
Designed in collaboration with a clinical team from Queensland Health, the mobile station is an ideal infection control addition where wall space is not available for the wall mount organisers.
The base is in infection control yellow to ensure it is highly visible and the durable construction ensures the station withstands the rigours of constant use.
The Sterri-Matt Mobile PPE Station:
Versatile, Multifunctional and many options available…
No. 1 most recommended infection control product in Hospitals and Aged Care designed in Australia. Beware of Imitations – Sterri-Matt PPE Organisers are the original and best
T:1300 132 908
E: info@sterrimatt.com
Sterri-Matt has a wide range of industry clients who have used or continue to use our products and are happy to share their experiences. Simply contact us to request those details. Below is a selection of quotes provided about our products and services.
We have used Sterri-Matt for our mattresses for a number of years and have had a reduction in the damage and replacement of our mattresses saving us thousands of dollars.
Implementing Sterri-Matt PPE Organisers in our facility has improved PPE Compliance and reduced wastage. Well priced and designed, would absolutely recommend.
Gienie Clinical has saved our facility during an outbreak. We definitely reduced the time we were in lockdown and the team at Sterri-Matt were on hand over the weekend to advise.
Our ultimate goal is to continue to be pioneers in the continued development of solutions, products and services for the infection control industry and to remain the go to company for the industry to seek advice and creativity in improvement of systems and processes. Continued collaboration ensures our products and services set higher standards in efficiency, outcomes and costs. 
Our clients include Public and Private Hospitals, Aged Care, Childcare, Prison Service, Ambulance and many more. Any industry looking to improve their infection control programs will see successful outcomes with our products.