Gienie Clinical Decontamination
Gienie Clinical is the fast effective minimal labour solution to outbreaks, terminal cleans and general decontamination of infectious areas.
Successfully used by Aged Care, Hospitals, Childcare, accommodation providers, shipping and public transport.
A broad spectrum fast acting disinfection system that covers 100% of the area being treated without the need for labour. Area treated in under 60 minutes
Uses for Gienie Clinical®
Safe and easy to use
Non Toxic, Non Flammable
No Capital Cost
No Labour Cost
Single Canister effective up to 50 cubic metres
Works in small areas
Bio-degradable Fluid & Recyclable Canister
Very cost effective Easy Set up – Completed
Aged Care
Hospitals
Schools
Public Transport
Property Maintenance
Offices/Workspace
Cruise Ships
A "Press and Leave" solution is targeted for use specifically in healthcare environments where infections are known to commonly occur e.g. hospitals, ambulances, doctor's surgeries, dentists and care/nursing homes, toilets and shower rooms. Using Gienie clinical ® could not be simpler. Place in the area to be treated, press a release valve and then leave. Our unique and powerful non toxic and non corrosive biocide formula, is then released to attack and destroy infected area with excellent results.
Bacterium (Genus/species)
CFU@ Dilution
CFU/ml after correction
E-MRSA 15 Sheffield
29 @ 10-6
5.8.108
(~8.4 Log10)
MSSA – PVL (+) 1 Sheffield
37 @ 10-6
7.4.108 (8.6 Log10)

MSSA – PVL (+) 2 Sheffield
36 @ 10-6
7.2.108 (8.6 Log10)
MRSA, NCTC 11939 HPA
6 @ 10-6
8.0.107
(~7.05 Log10)
Klebsiella aerogenes NCTC 9494
18 @ 10-6
3.6.108

Klebsiella pneumonia Sheffield
10 @ 10-7
2.109
(~9.05 Log10)
VRE NCTC 12201 (1)
7 @ 10-7
1.4.109
(9.05 Log10)
VRE NCTC 12201 (2)
6 @ 10-7
1.2.109
(9.05 Log10)

Escherica coli NCTC 5934
9 @ 10-7
1.2.109
(9.1 Log10)
Pseudomonas aeruginosa NCTC 6749
10 @ 10-7
2.0.109
(9.1 Log10)
Acinetobacter baumanni NCTC 12156
45@10-7
(6@-8
)
9.109
(9.5 Log10)

Enterococcus faecium
9 @ 10-7
1.8.109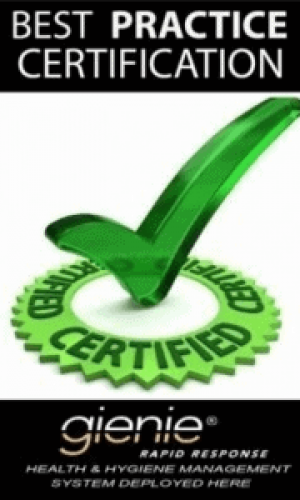 Rapid Response from Gienie Clinical®
NO Laundering of Curtains
NO Steam cleaning of Carpets
NO In-house Labour Cost
NO Manual cleaning of surfaces post treatment
Everything insitu DECONTAMINATED
Fast – Multiple rooms complete in under an hour
Air Quality treated as well
Available 24/7
Onsite within hours of your first call
Compliance Notice: The Gienie clinical canister has been tested in accordance with BS EN 13697, BS EN 1276 and BS EN 1650