Universal Repair Solution
A near invisible repair to keep your equipment in service​
Originally developed for the US Navy, the PU multipurpose repair solution can be used on a multitude of vinyl type materials & leather like surfaces.
The proprietary solution is designed to move and stretch with the material being repaired while also providing a permanent weld like adhesion that will not reactivate, eliminating the appearance of a sticky residue around the edges of the repair. Ideal for use in Healthcare, Marine, Aviation and more this universal repair solution provides a suitable solution for infection control.
Available in many sizes and can be trimmed to ensure a perfect repair without edges peeling. The perfect solution to extend the life of any equipment.
Pressure Relief Materials
Mattresses, Stretchers
Rehab Tables & Surgical Beds
Examination Tables
Mobility Scooters, Wheelchairs
All Types of GYM equipment
Can Be Used All types of Vinyls

Aircraft Seats, Taxi Seats, Marine Upholstery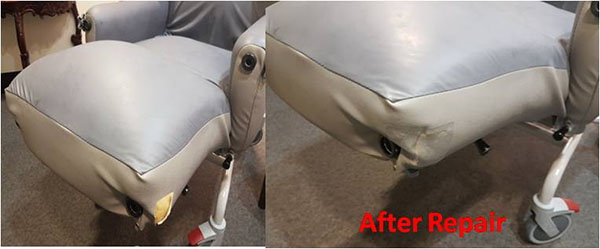 Our repair solution is designed for many environments
SEMI-TRANSPARENT – works with all colours
INSTANT ADHESION – with no sewing
CONFORMS – to irregular surfaces
WON'T TURN GUMMY – in high heat
UV RESISTANT – inhibits yellowing for years
HOLDS AIR & WATER – under pressure even when stretched
CUTS EASILY – to any size with scissors
NO GLUE TUBES – no mess liquid adhesives to apply
ELASTIC PATCH – that won't pull off when stretched
Our Repair Solution is the low cost solution to damage repairs to a variety of equipment including those used in healthcare. Clinically tested and validated. No special training is required and is easy to use and applied in seconds with little preparation. Your equipment can be back online in seconds. Our Repair Solution has been engineered to survive harshest of environments and is designed to provide a long lasting cost effective solution to equipment damage.
| | | |
| --- | --- | --- |
| Product Size | Product Code | Pack Size |
| 2.2cm * 2.2cm | Smatt-TA-S1 | 20 |
| 3.5cm * 3.5cm | Smatt-TA-S2 | 20 |
| 14.7cm * 7.6cm | Smatt-TA-S3 | 10 |